Introducing the Audi e-tron quattro concept: our first-ever all-electric car and the prototype of our next-generation SUV, powered entirely by electricity. Here's how you can be one of the first behind the wheel of the production model when it arrives in early 2019
All electric. All Audi
Delivering up to 370kW and 500PS of power, the Audi e-tron quattro concept has a stunning, aerodynamic design, many advanced intelligent features and range over 310 miles on a single charge.
The first fully-electric Audi will be available to order late in 2018, with the first deliveries following in early 2019. But by placing a deposit now, you can secure access to Priority Ordering - making you one of the first to order our most advanced car yet.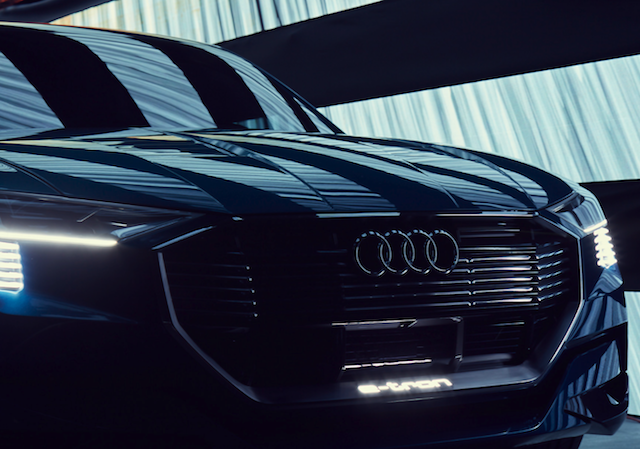 A powerful experience
With three electric motors that deliver 320kW, the Audi e-tron quattro concept provides the economy of electricity without sacrificing anything to power. In Boost mode, the three electric powerhouses work even harder: delivering up 370kW and laying down 800Nm of torque, they take the e-tron quattro concept from 0-62mph in a breath-taking 4.6 seconds. Characteristically for electric vehicles, there's no lag between accelerating and launch; a thrilling experience if you're only used to combustion power.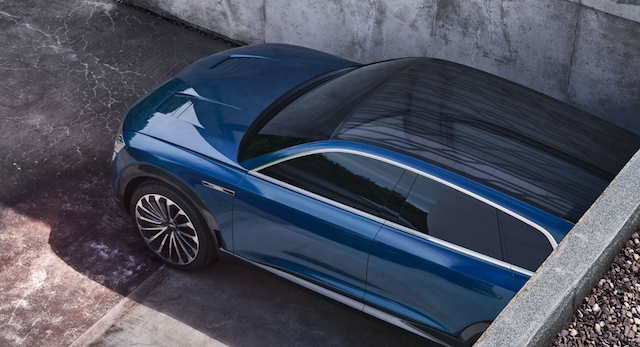 Solar roof: more light, more economy
The Audi e-tron quattro concept has a unique panoramic glass roof. Integrated with photovoltaic cells that generate energy for the air conditioning and heated seats, they provide more sunlight for the occupants – and more efficiency for the car.  
Virtual mirrors for unprecedented aerodynamics
At 4.88m long, 1.93m wide and 1.54m high, the Audi quattro concept is sized between the Q5 and Q7. Its sweeping, fluid design gives the e-tron quattro concept a stunning presence and remarkable aerodynamics; aided, for the first time in any Audi, by virtual wing mirrors. Small cameras replace exterior mirrors, relaying the car's surroundings to OLED displays housed within the front doors. Blind spots are eliminated and the field of vision is expanded, while air-flow is improved and wind noise is reduced.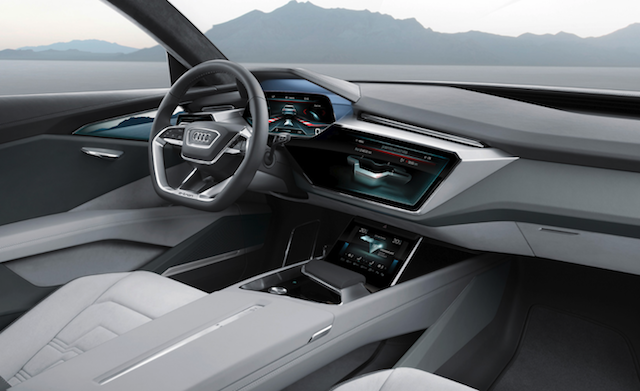 The future of design. Now
Simple, horizontal lines announce a new era in Audi interior design. Two intelligent OLED touch-screens, complimented by voice-command controls, make possible a clear, expansive dashboard. Further OLED screens inside the doors feed the images provided by the virtual wing-mirror cameras. The feeling is relaxed and spacious - a seamless blend of luxury and technology.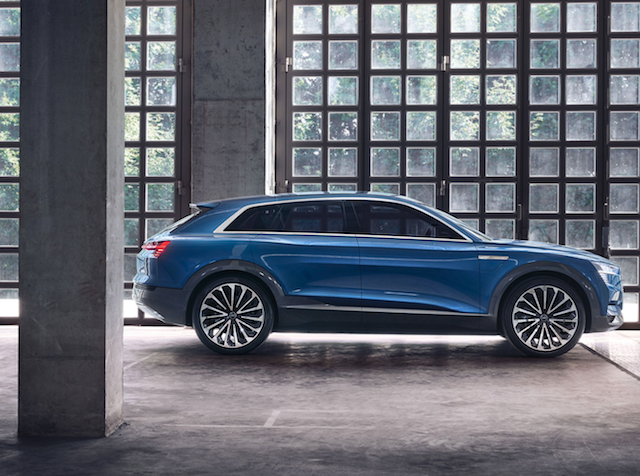 Rapid recharging
On a single charge, the Audi e-tron quattro concept's 95 kWh Lithium-ion battery has a range over 310 miles.
The prototype can be recharged with a standard, domestic 240V socket, or via a custom wall box. Away from domestic power sources, more and more rapid-charging terminals are appearing in towns, cities, car parks and motorway service stations nationwide. At terminals with an output of 150 kW, an 80% recharge is possible within 30 minutes; a full, 100% charge can happen within 50 minutes.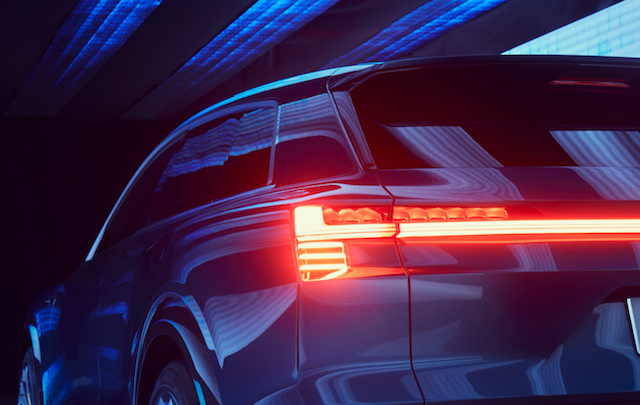 Lead the charge
The first fully-electric Audi will be available to order in late 2018. But you have the opportunity now to secure guaranteed access to Priority Ordering - and to be among the first to place an order at the end of this year.
For a fully refundable deposit of £1,000, which can be offset against the purchase price, you can reserve your place in the Priority Ordering group. Here, you'll not only hear from us as soon as Priority Ordering opens, so that you can be among the first to place the order, but you'll also be among the first to receive e-tron news.